Close your eyes and pick a summer image or scenery from this season. What do you see and how do you feel? As for me, I see lots of various, vivid colors, airy dresses, jewelry that is light and fresh. Everything is full of life and I feel wonderful!
Color your jewelry with new laser-cut filigrees!
I don't think Beadingschool can help you with your dress, but we certainly can help with bringing more colors and rich component selection into your jewelry! Let this blog article inspire you! I will show you several examples of how you can use the latest addition in the Beadingschool webshop – the Laser-cut filigrees!
They are a suitable component for any skill level. Beginners can use only pliers, advanced beaders can combine them with beaded motifs or make them the centerpiece in the bead embroidery.
Simple earrings using the pliers
I love this basic technique as you can connect various components together. I created these earrings using: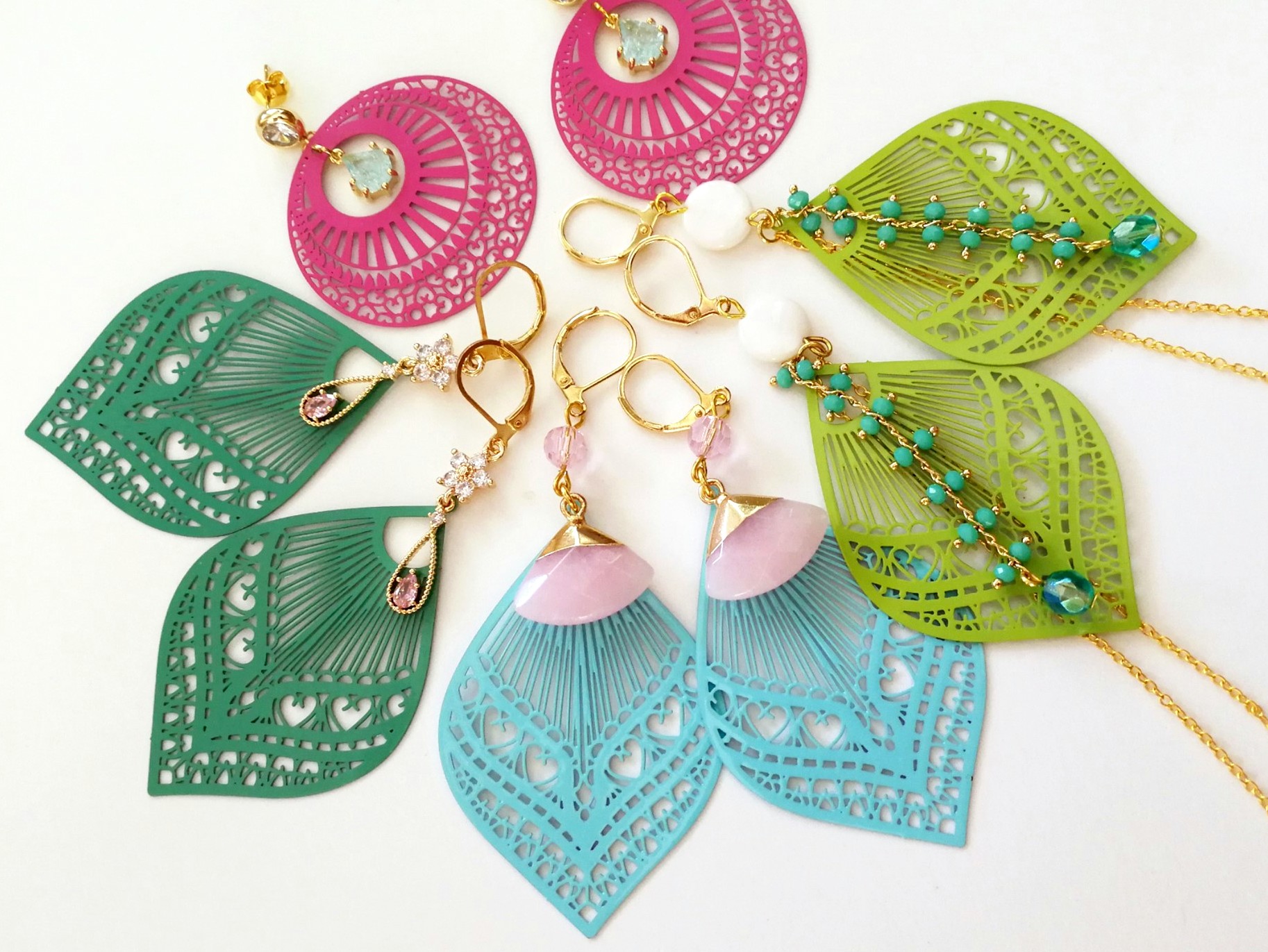 Inspirational Summer Spirit Box earrings
There is a very special, colorful collection of components and beads in the Summer Spirit Box. Erika created these earrings from the box, using only pliers.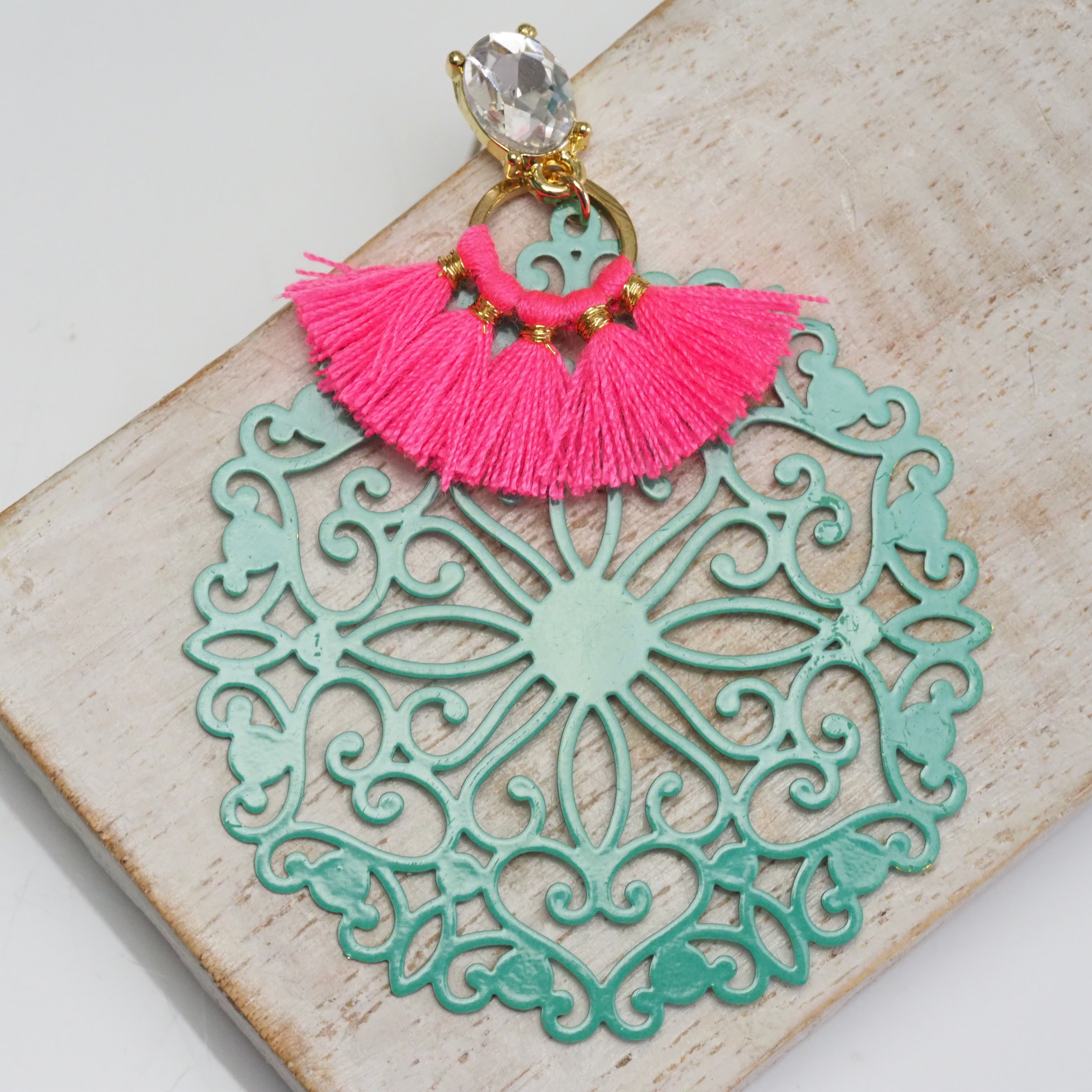 Decorate the filigree!
I used the same filigree as Erika did in the picture above. The difference is I decided to decorate the spot in the center with 8mm bezelled rivoli. I attached it to the filigree by sewing and used pliers to attach other, smaller components. These earrings are large but very light! A single piece can easily become a pendant if you want.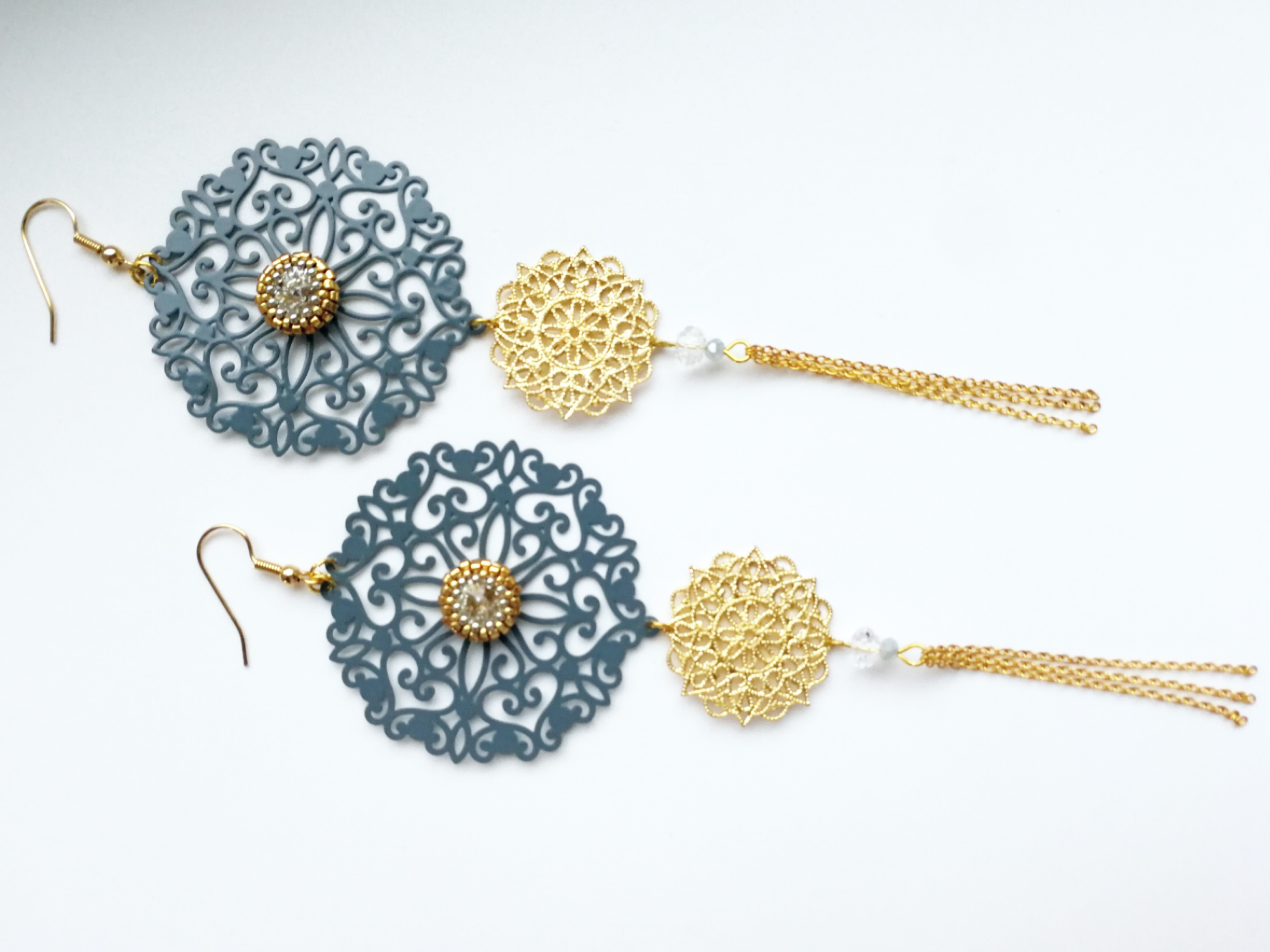 Decorate your beaded motifs!
These earrings were made by our friend from Beadingschool Club, Veronka Královičová. She decorated Beadingschool Delilah earrings design with large fan filigree and the Bollywood drop.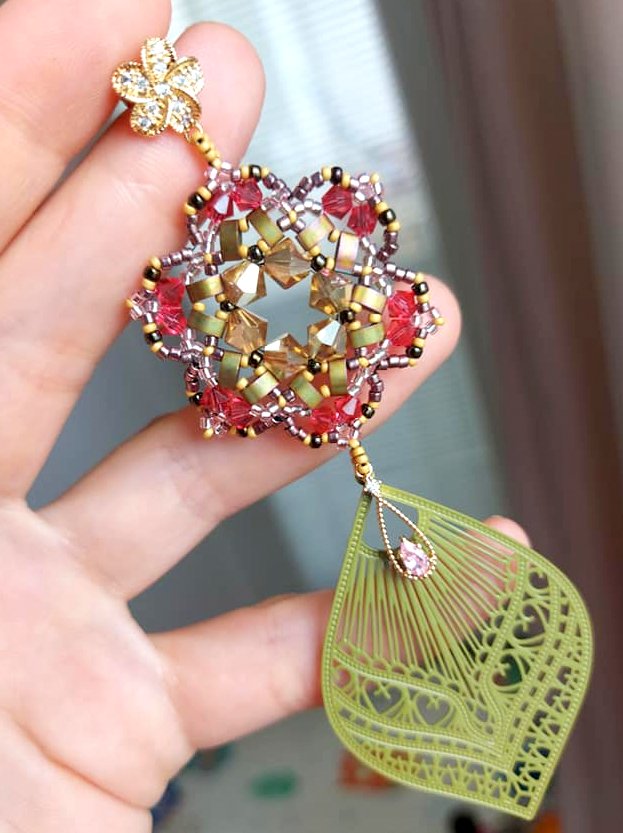 Samoa set by Katalin Dudás. Kata showed us another great example where you mix and match the colors of your jewelry set with different filigrees! The result is harmonious and still fresh.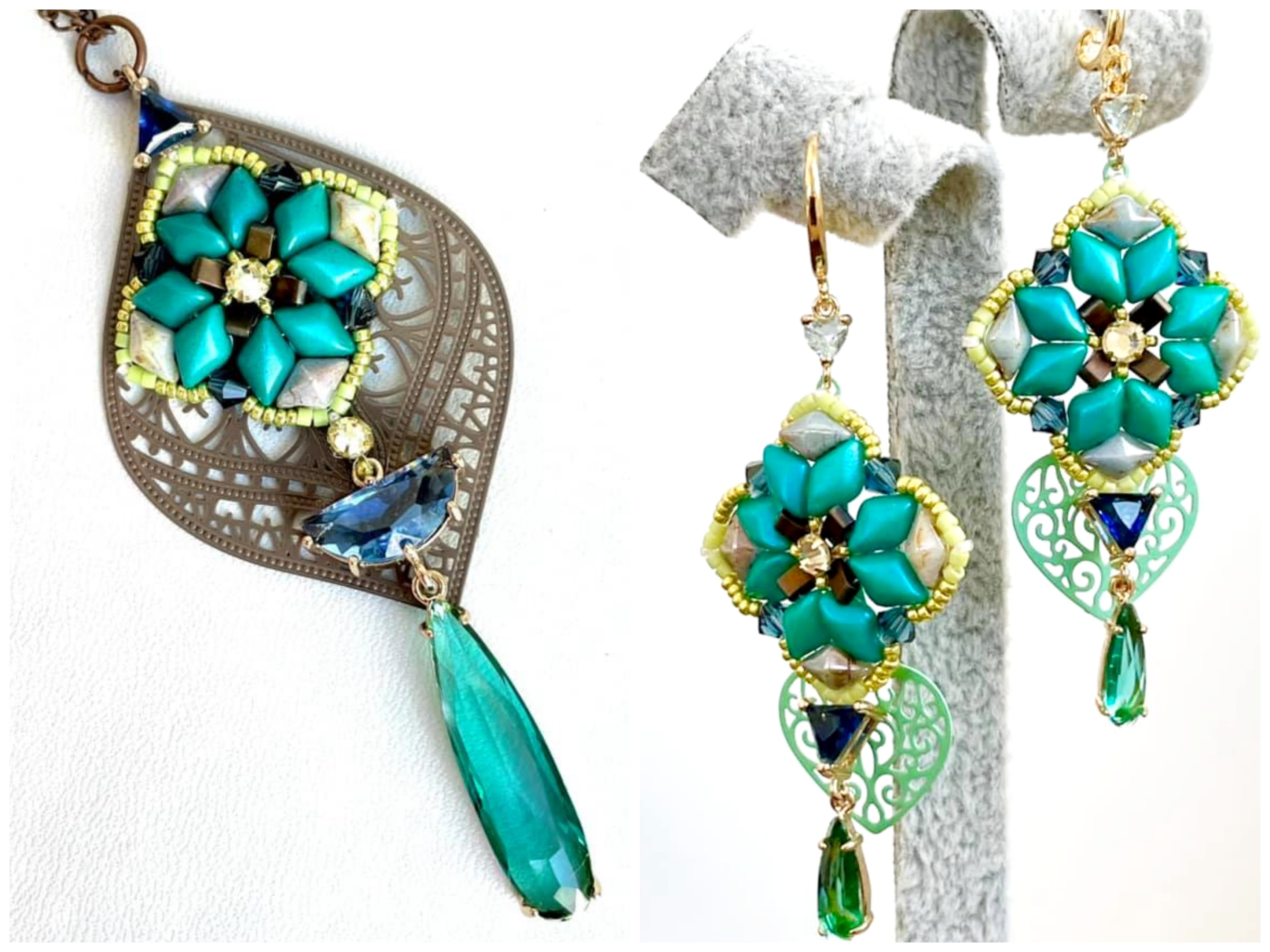 We beaded Alicia's Flower design last week. I decided to create a fresh-looking pendant and add extra color to the jewel with light brown fan filigree. I sewed it to the back of the beaded motif, added bezelled rivoli and Preciosa rhinestone cupchain.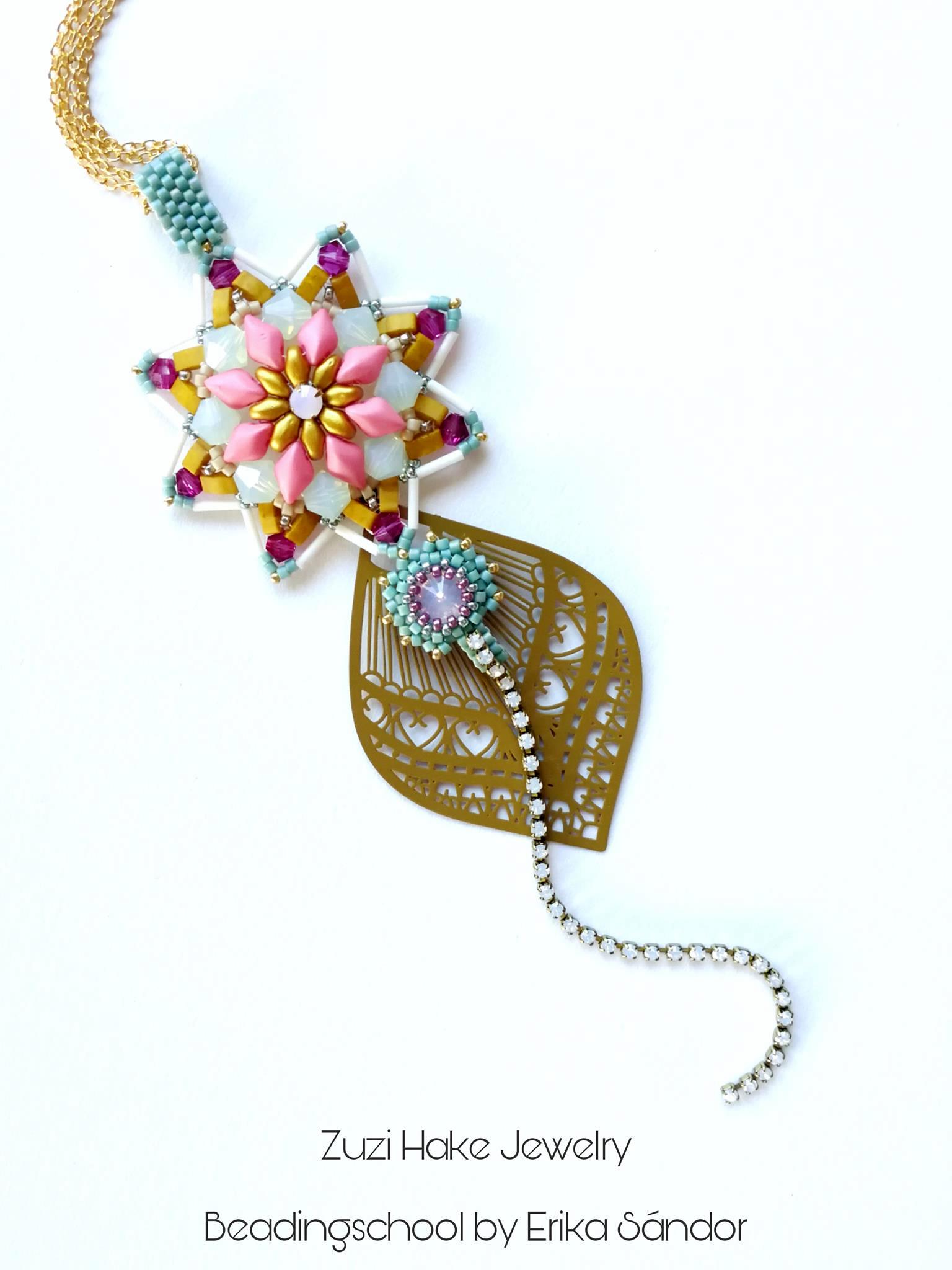 This is Attitude earring design, where I connected the motif and glass connector in a metal setting. These earrings looked very romantic, but I layered the filigree and the connector together and added more drama into the whole design.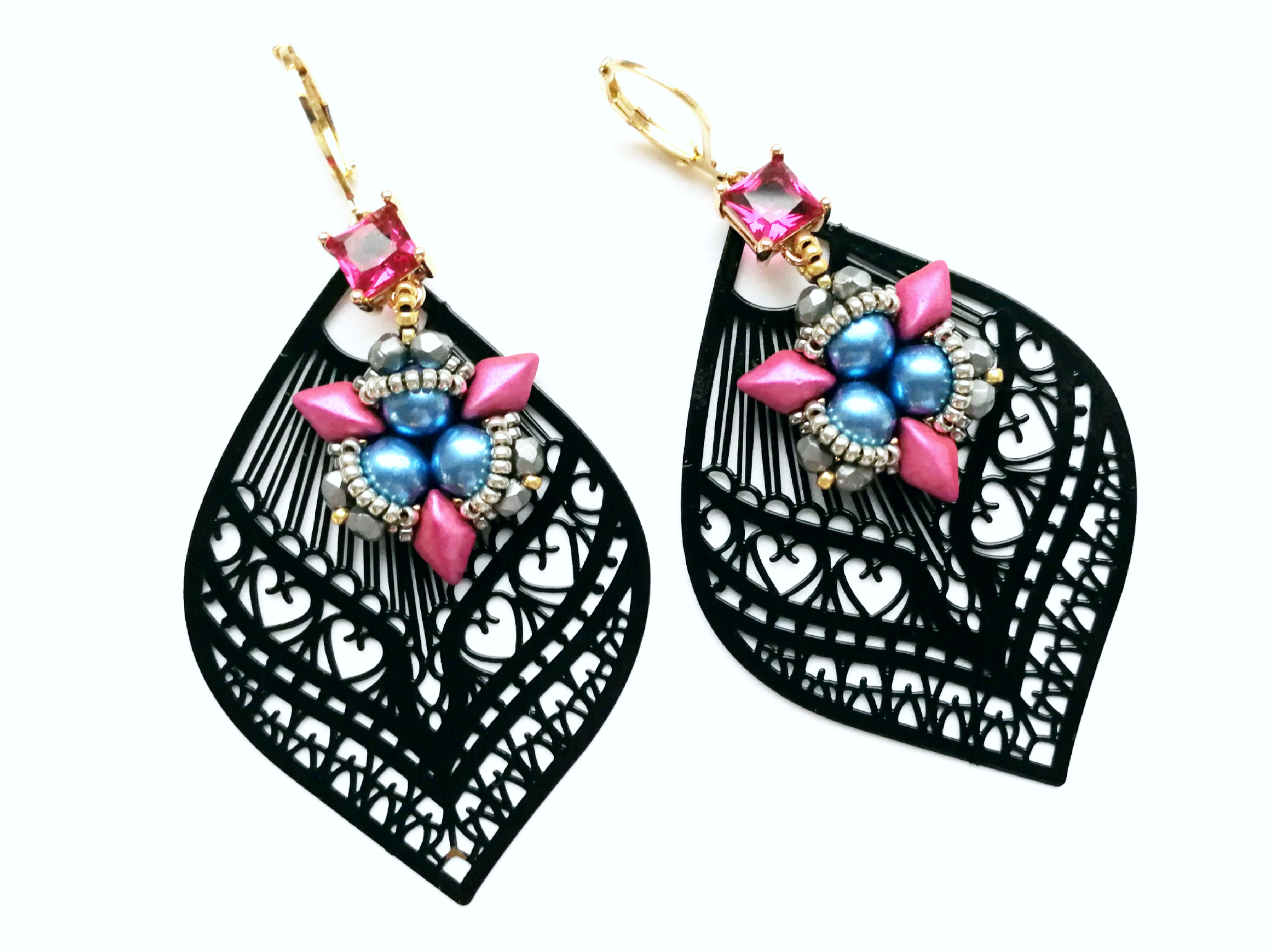 Our beady friend Tammy Netzer used the large round laser-cut filigree to support Alicia's Flower and enhanced the colors with it.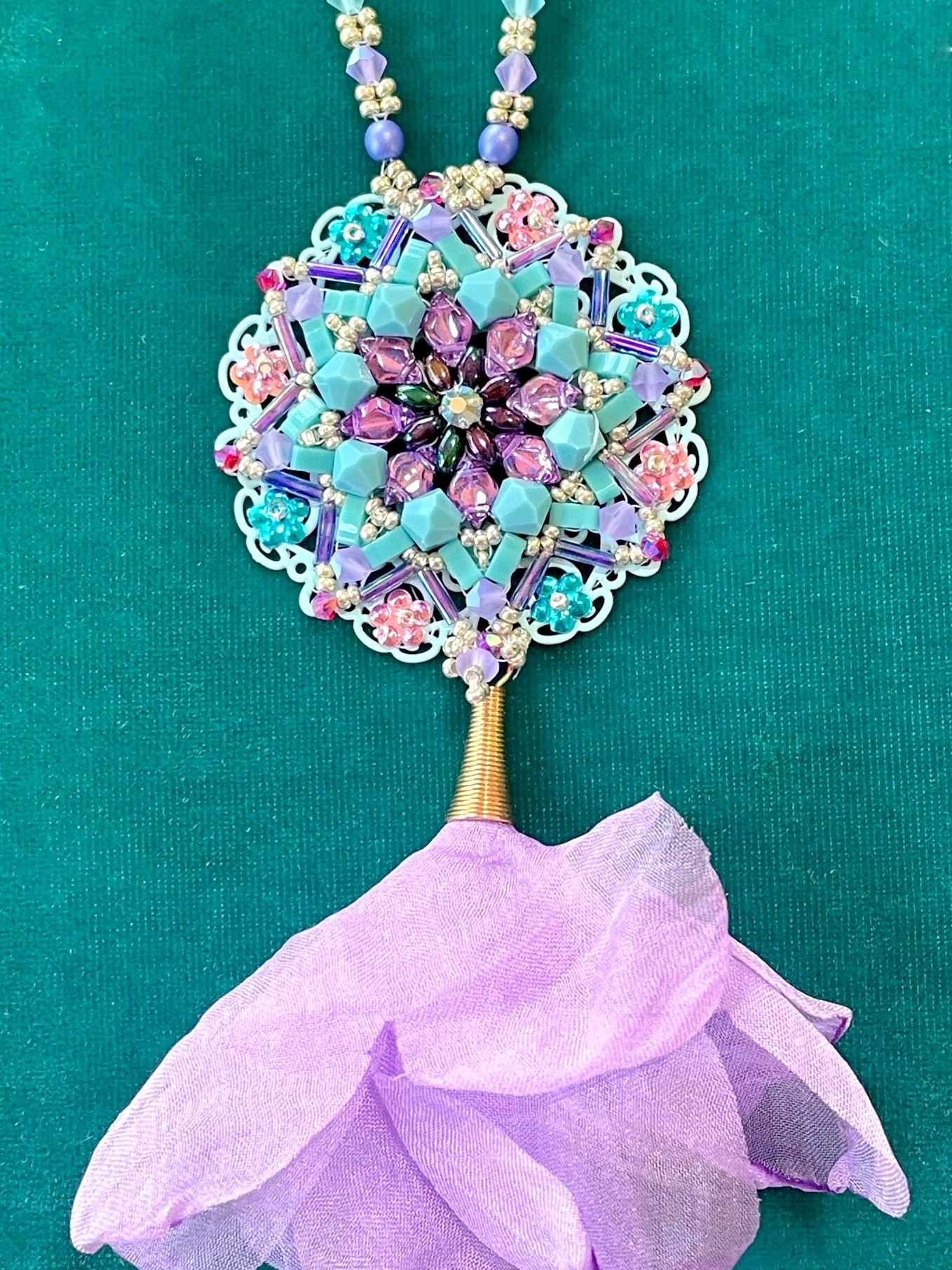 These are new, Flamboyant earrings by Erika. Lots of colors and sparkle – just the way we like it!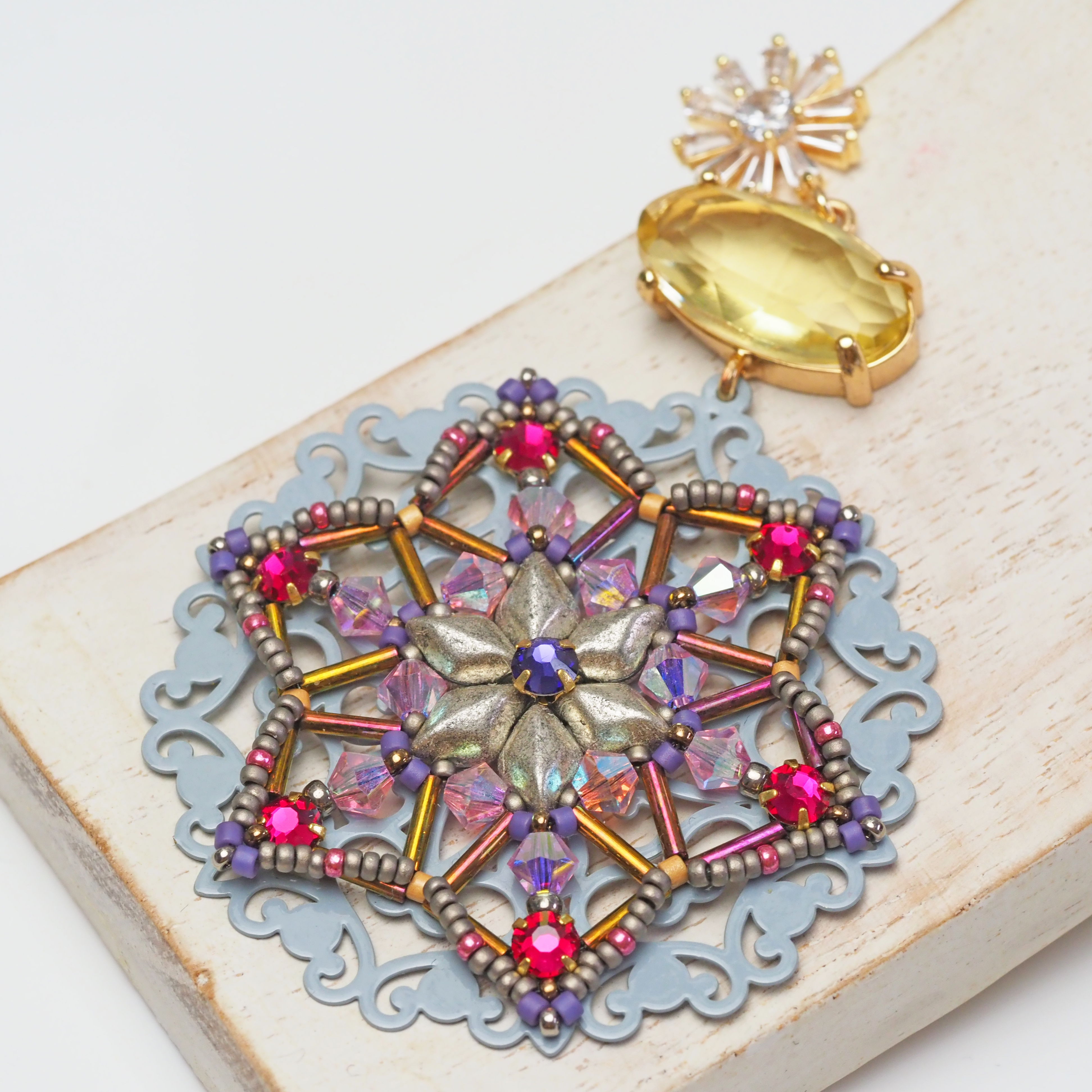 Bead embroidery with colorful filigrees
Tammy Netzer also created this bead embroidery set of pendant and bracelet with Samoa motif and large fan filigrees. Moroccan style and Boho feeling take you to One Thousand and One Nights fairy tales!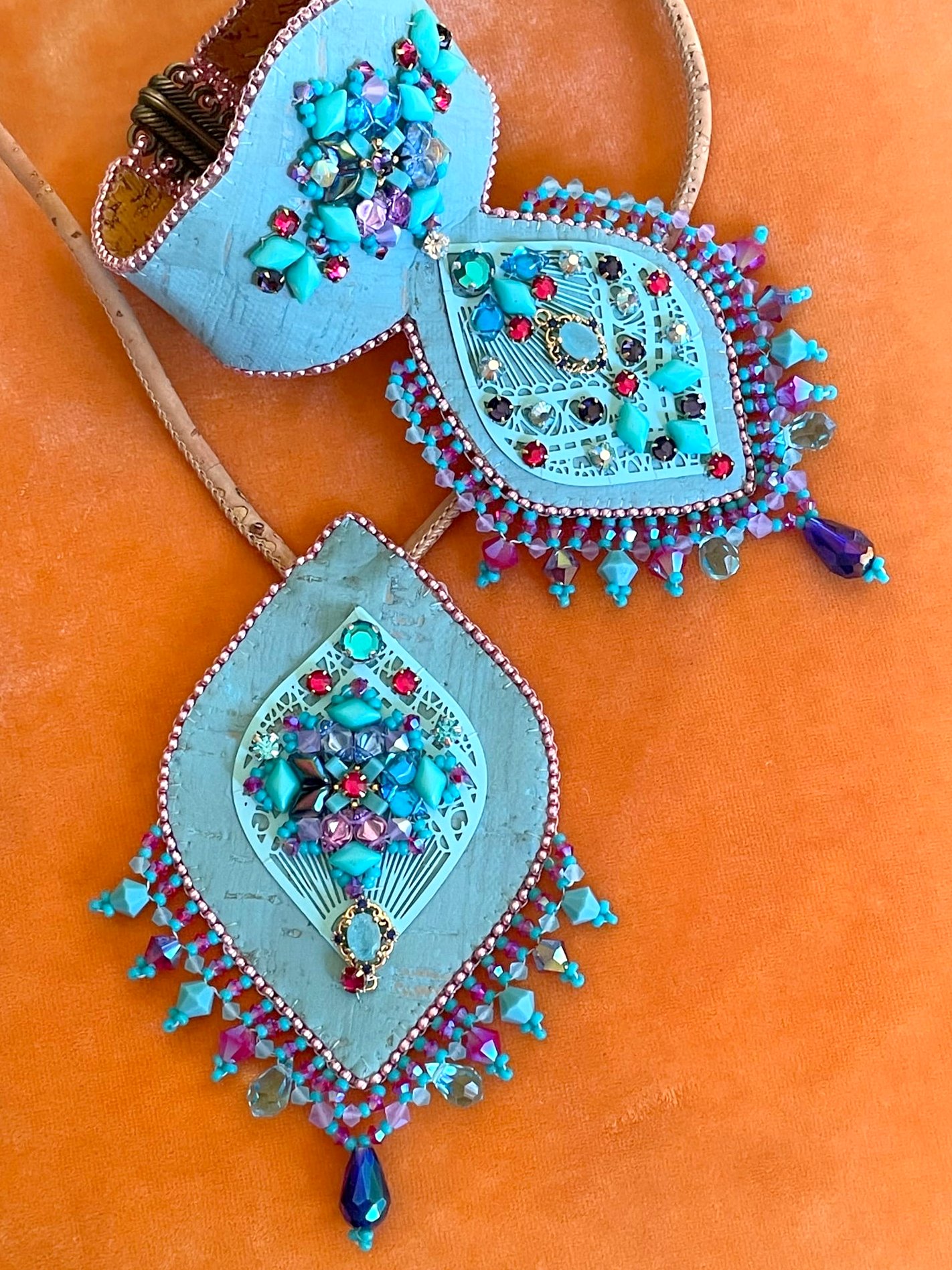 Let the filigree take the main part when making your jewelry!
Erika created bead embroidered earrings where the filigree is layered with a contrasting color of Ultra Suede and decorated with various fire-polished and Preciosa crystal beads. If you are new to bead embroidery and want to try this technique, I recommend Erika's blog post with lots of useful links.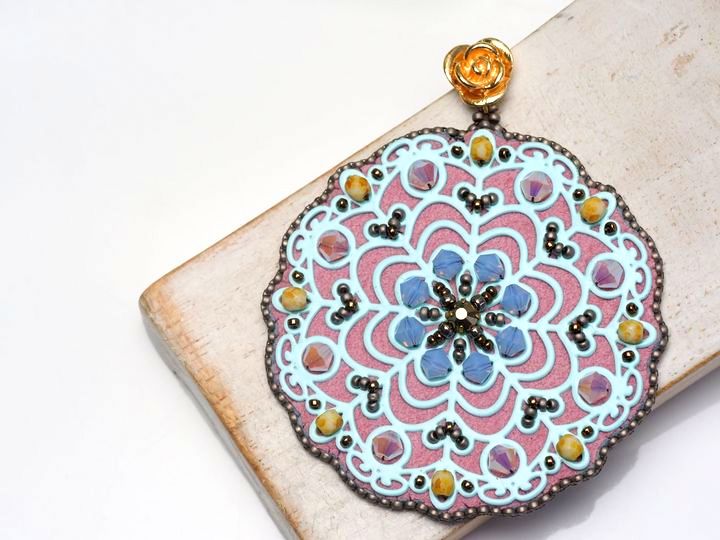 You can bead the Romance Earrings with Erika's instructions in the free video tutorial:
What do you think? Are you going to try and use some of our ideas? I hope you do!
I also hope this blog article showed you something new or brought a sparkle of brand new creative ideas to your mind. If you decide to let more colors into your life and beadwork using some of these filigrees, share the picture in Beadingschool Club on Facebook. We'll be very happy to see it!